Currently, there is a disconnect between the demand for fiduciary training by retirement plan sponsors and the training services provided by advisors. Plan sponsors who are responsible for following the rules of ERISA and Department of Labor, do not feel they have proper training.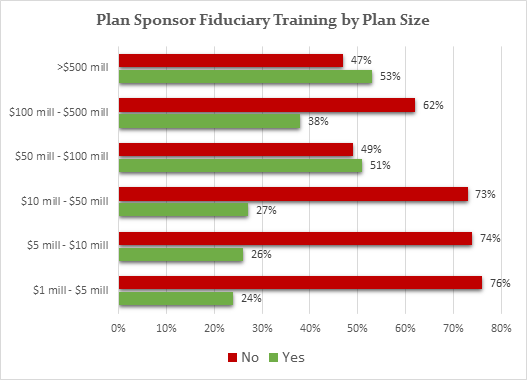 A recent national survey conducted by Xponential Growth Solutions found that of 977 plan sponsors surveyed over 70% of plan fiduciaries have no specialized training as it pertains to their responsibilities under ERISA. A copy of the report can be downloaded here.
This finding may explain why that nearly 70% of plans investigated by the Department of Labor are found to be in violation of ERISA. Too many plan sponsors are not educated on their fiduciary responsibilities, leading to more violations and fines paid by plan sponsors.
For several years now, retirement advisors have seen the industry consolidate and their margins shrink. Advisors need to build fiduciary training into their service model in order to evolve. For advisors already providing fiduciary training, their training may be too narrowly focused on the investment side of a plan sponsors fiduciary responsibilities, leaving a gap. Though investments are an important part of fiduciary responsibilities for the plan sponsor, it is only one of the key areas that a plan sponsor is responsible for. Additionally, advisors may want to consider outsourcing their fiduciary training to an online LMS for clients and prospects in order to streamline their operations and deliver consistency.
Plan sponsors need to ask themselves:
Do the retirement committee and I understand our fiduciary responsibilities?
Are we trained for our job as committee members?
Does my advisor provide fiduciary training?
Advisors need to ask themselves:
Do I offer fiduciary training as a value-add in my service model?
Is my current training program too limited in focus for plan sponsors?
Fiduciary Education was founded because we believe plan sponsors are intimidated by retirement plan liability and complexities. Therefore, we created an easy to use, quality online resource portal for fiduciary training. If you are a plan sponsor or an advisor and the answer to any of the questions above was no, then you should consider ERISA Smart Fiduciary Education for Plan Sponsors. This course has trained over two hundred plan sponsors and is certified for HRCI and SHRM-PDC credit.